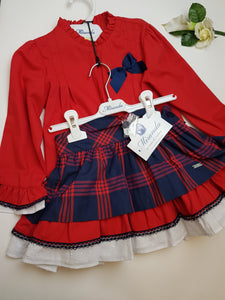 Miranda girls blouse and skirt .
GIrls red blouse with pleated detail on front ,  navy bow with white sleeve frilly cuff and navy trim . The blouse has back button fasteners . The skirt in red ,navy pattern  and with white and red petticoat frill .
hairband sold seperately 
4 year
Waist measures 27cm across (total waist 54cm), Length 27cm.
Blouse chest 31cm across (total chest 62cm), Length 38cm.
5 year
Waist measures 28cm across (total waist 56cm), length 28cm.
Blouse chest 34cm (total 68cm), length 40cm.